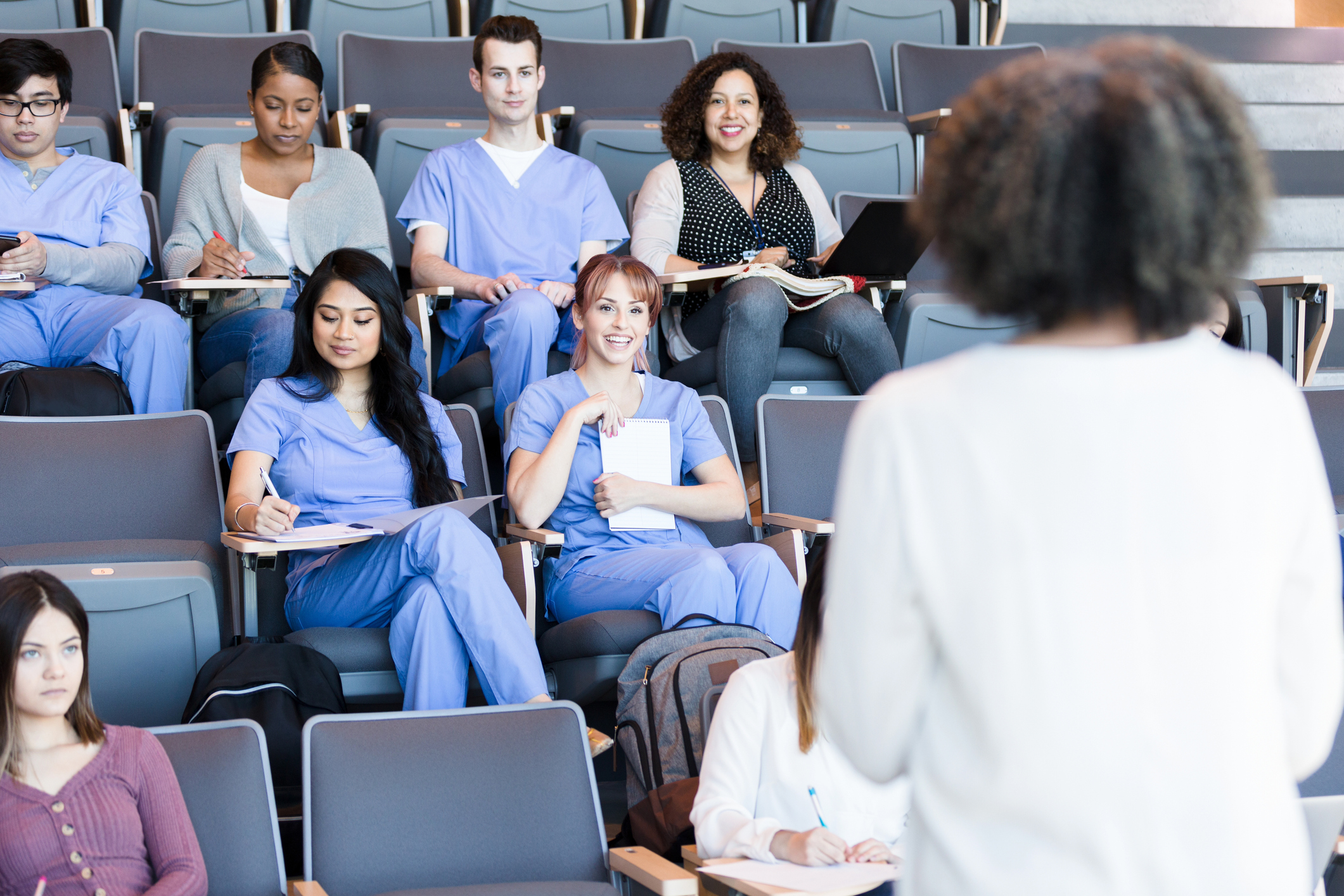 Going to school for nursing can change your life, and it can help you change the lives of others. However, it does require dedication and commitment.
You wouldn't want just anybody caring for you or your loved ones when you're sick or recovering. That is why nurses must overcome significant hurdles to start a career in the nursing field.
But just how hard is nursing school exactly? If you're considering enrolling in classes soon but feeling uncertain whether you're cut out for it, don't panic! You may not be ready for nursing yet, but that's exactly what nursing school is for.
There's always a chance that this career path is not for you, but if you're willing to do the work and continue to learn and grow, then chances are you'll find both nursing school and your career in nursing highly fulfilling.
To help you get a better idea of what it takes to make it through nursing school, we've created this simple guide to all of the challenges you're likely to encounter during your time as a student, along with some other useful information about your future career.
Is It Hard to Get into Nursing School?
Before confronting the challenges you'll be facing in nursing school, you're first going to need to get into a program. Because a nurse's job requires a lot of responsibility, the bar for entry to nursing school is not a low one. You'll need to have decent grades and pass entrance exams in math and English.
Nursing is a competitive field, so you'll need to stand out to be admitted into a nursing program. However, every school has different standards for admission; just because you were rejected by one school doesn't mean that you can't make it into another.
You can also increase your odds of being accepted into a nursing school by earning certifications such as Basic Life Support and CPR or by first becoming a certified nursing assistant (CNA).
How Long Is Nursing School?
One thing that may make going to school for nursing difficult is the amount of time needed to dedicate to it. Some aspiring nurses might need to work full time in order to pay for schooling. This means they'll be heading to class after a long day on the job. That sort of schedule is not for everyone.
Fortunately, getting your start in the world of nursing can happen fairly quickly. You can become a CNA in a matter of just four to twelve weeks, and a licensed practical nurse (LPN) program can be completed in around one to two years.
After that, there are a number of different avenues of education for you to pursue if you're interested in learning more and earning more, with most of them taking around two to four years to complete.
The Challenges of Nursing School
Nursing school, just like any school, is not necessarily going to be a smooth ride from beginning to end. You'll encounter some challenges along the way, and many of them will be unique to the career path you've chosen. Below are some details about the biggest challenges you're going to face.
Workload
There is a ton to learn when it comes to the nursing field. Because of this, your workload in nursing school will be a lot to handle, and you're going to find yourself studying quite often.
Between all of the new facts, terms, concepts, and hands-on skills you'll be learning each semester, you will absolutely have your hands full.
Clinicals
As a nursing student, you will spend part of your time in the classroom learning the various terms, theories, and concepts related to the job, and the other part of your time getting real-life experience with the job itself.
Clinicals are the only way that you can show how prepared you are to care for the life and well-being of a patient, and they can be a stressful experience that is quite unlike any other educational pursuit.
Managing Your Time
Nursing school requires more than just the time you spend in the classroom and in clinicals. The work you find yourself doing outside class hours will require you to manage your time wisely, particularly if you're working while attending school. This is a challenge for any student, but it may be even more so for nursing students.
The Advantages of Nursing School
Now that you've learned about some of the challenges of going to nursing school, let's take a look at the brighter side of things. It's not going to be a walk in the park, but few things that are truly fulfilling ever are. Below are some of the great things you can look forward to when you decide to become a nursing student.
There's a Major Need for Nurses
You've probably heard stories about someone going through school and earning their degree only to find that there are no jobs in their chosen field. With nursing, that is far from the case. There is a major need for nurses throughout the country, and you should have no problem finding an entry-level position once you've earned your certification.
The Field Is Growing
Not only is there a big need for nurses at the moment, but that need is also expected to grow at an above-average rate in the coming years.
With people living longer thanks to advances in medicine and the baby boomer generation beginning to age, the number of patients in need of care is increasing by the day. Your nursing education will help you make a career out of providing that care.
It's Fulfilling
For many people, the most important aspect of their job is the paycheck they bring home. That's understandable, but a career in the nursing field can offer even more than that. You'll be helping those who need it most and making a tangible difference in their lives. In nursing, you can bring home a paycheck and a sense of pride.
Interested in Nursing School?
Start the journey to becoming a licensed practical nurse today. Contact Chancellor Institute to learn more.